Product Descriptions
Home >> Product Descriptions
"Lenses with Melanin are unique because they contain the human eye's own pigment for glare reduction and protection against sunlight damage."
MelaninProducts.com offers a wide variety of products ranging from industrial to personal. We spend a great deal of time on research and development, so come back frequently as new products and applications are constantly evolving.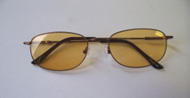 Sun Lenses and Computer Lenses with OLPTM

Ocular Lens Pigment (OLP)TM represents a recently patented technology by Photoprotective Technologies. OLPTM is a synthetic version of the material that occurs naturally in the lens of the human eye. Lenses with OLPTM filter light in a manner similar to that of melanin. OLPTM powder.
All OLPTM lens and eyewear products are currently priced 20% higher than their corresponding melanin products and include the products listed below under Products Offered.
Products Offered
Anti-glare glasses; anti-glare spectacles; ant-reflective lenses; coated contact lenses; Children eye glasses; Computer Screen filters; Corrective glasses; Eyeglass cases; Eyeglass frames; Eyeglass lenses; Eyeglasses; Eyewear; Filters for optical devices; Glacier eyeglasses; Goggles for Sports; Lenses for sunglasses; Motorcycle goggles; Night vision goggles; Ophthalmic lenses; Optical filters; Optical filters for screens; Optical glasses; Optical lenses; Optical reflectors, Polarizing spectacles, Protective Eyewear, Protective eyewear and components thereof; Protective Spectacles; Reading eyeglasses; Reading glasses; Safety eyewear; Safety Goggles; Ski glasses; Ski Goggles; Snow goggles Spectacle glasses; Spectacle lens blanks; Spectacle lenses; Spectacles; Spectacles, frames and cases; Sports Eyewear; Sports glasses; Sunglass lenses; Sunglasses; Sunglasses and Spectacles.